Young Leaders Reunion for the American Swiss Foundation in Ruschlikon (near Zurich)
The First Academy in Orlando, FL
Healthy Choices for Youth - Chattanooga Summit for National Center for Youth Issues, Chattanooga, TN
Westminster Christian Academy in Lafayette, LA.
Virginia Family Foundation
Educational Policy Conference in St. Louis, Missouri.
North Carolina Family Policy Council in Raleigh, NC.
Reagan dinner in Staunton, VA.
Hillsdale College in Hillsdale, MI
Worthington Christian Church for 8 Christian schools in the greater Columbus, Ohio area
Brookwood High School in Snellville, GA
Eastside Christian School in Marietta, GA
Oral Roberts University 2006 Leadership Conference in Washington, D.C.
Vision America in Washington, D.C.
United States Senate Values Action Team Meeting
Booker T. Washington Society conference in Washington, DC
Washington Times luncheon
Cherrydale Baptist Church in Arlington, VA
AOL Headquarters in Dulles, VA
Family Impact Summit in Brandon, FL
Family and Culture Conference at First Presbyterian Church of Bonita Springs, FL


Home Invasion
Protecting Your Family in a Culture That's Gone Stark Raving Mad
by Rebecca Hagelin


Middle class moms and dads have long sought safety for their children in the nurturing haven of the cul-de-sac. Like a safe harbor at the edge of an angry sea, the suburban neighborhood is an environment of protection from the world and all its dangers. Or is it?

In Home Invasion, Rebecca Hagelin proves that in today's all-consuming culture of corruption there is nowhere left to hide—American homes have already been invaded by this insidious enemy that seeks to twist our minds and poison our hearts through the unmonitored Internet, television, magazines, and music that our families ingest on a daily basis.

Speaking as a nationally known social commentator and as a mother of three, Hagelin shows through specific examples and alarming statistics how the enemy has infected the family van, our neighborhood schools and textbooks, the stores in which we shop, and even the churches in which we worship.

With warm words of encouragement and practical suggestions, she coaches parents on how to arm themselves with information, strategically plan the movements of their family members, secure allies in the battle, and most of all, muster the guts and the resolve to lead their families to victory against the great beast.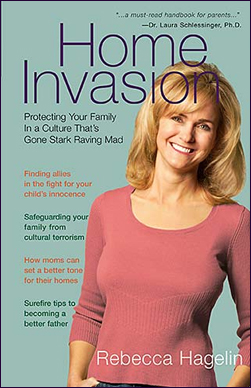 "...a must-read handbook for parents..."
-Dr. Laura Schlessinger, Ph.D.


"Rebecca's book is a priceless blueprint for parents on how to counter the negative cultural influences that are inundating our children. Read Home Invasion and you'll be prepared to go to battle in the culture war—and win."
Sean Hannity
"We have known Rebecca Hagelin and her great family for many years. This book reveals her deep concern for your families with well thought-out suggestions to help you develop strong character traits and loving relationships within your homes."
-Drs. Tim and Beverly LaHaye,
best-selling authors and Christian activists


"Rebecca Hagelin offers a persuasive, common-sense voice that demands respect—and attention—from all those who want to see the survival of sane, functional family life in our beloved country."
-Michael Medved,
syndicated talk show host, author of Right Turns


"The excuse made by those forces corrupting our youth is that parents should be responsible for monitoring their children's experiences. That's clearly impossible considering all the outlets available for the assault on family values. Home Invasion is a must-read handbook for parents and citizens trying to help their children and communities survive the culture war."
-Dr. Laura Schlessinger, Ph.D.,
syndicated talk show host, author of The Proper Care and Feeding of Husbands

To book Rebecca for a media interview or speaking engagement, please contact:
703-812-4989
[email protected]